Source: www.cebupacificair.com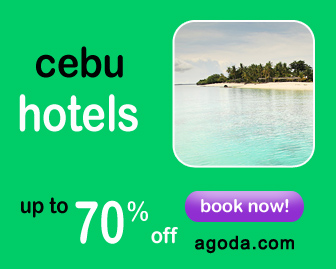 Holds domestic seat sale for June to August travel
The Philippines' largest national flag carrier, Cebu Pacific (PSE:CEB) offers discounted fares to 9 of its destinations in Southeast Asia, from March 20, 2012 until seats last. This seat sale is valid for travel from May 1 to July 31, 2012.
Reduced fares from Manila to Hanoi or Saigon (Vietnam), and Kota Kinabalu (Malaysia) are available for as low as P1088. The same discounted fare applies to seats from Clark to Bangkok (Thailand).
Reduced fares from Manila to Kuala Lumpur (Malaysia) and Brunei start at P1488. The same discounted fare is available for those coming from Cebu or Clark to Singapore.
Travelers from Manila to Jakarta (Indonesia), Siem Reap (Cambodia), and Bangkok can get seats for as low as P1888.
"We recently launched 2 new international destinations for our guests to enjoy and explore – Hanoi in Vietnam and Siem Reap in Cambodia. Whether your idea of a vacation is soaking up the sun in scenic views or visiting historic sites, you get the best of Southeast Asia with this seat sale. If you want to go island hopping, discounted seats are also available to 20 Philippine destinations," said CEB VP for Marketing and Distribution Candice Iyog.
Domestic routes are also covered in this seat sale for the travel period: June 1 to August 31, 2012. Seats from Cebu to Clark; Manila to Cebu, Iloilo, Bacolod, Tacloban, Roxas, Dumaguete, Tagbilaran, Caticlan and Kalibo are available for as low as P288.
Travelers from Manila to Butuan, Cotabato, Davao, General Santos, Pagadian, Surigao, Cagayan de Oro, Dipolog, Ozamiz and Zamboanga can grab seats for as low as P488.
"For our guests' added convenience, CEB's web check-in service and automatic seat selection are now available for free while booking online. To avoid the long lines at the airport, we also encourage guests with check-in luggage to avail of prepaid baggage allowance when booking online for travel savings of as much as 63% on domestic and 72% on international flights," added Iyog.
The airline offers free web check-in service with free seat selection from 48 hours up to 4 hours before flight departure, for all Airbus flights. Passengers automatically get an assigned seat, for free, during the web check-in process through the Manage Bookings section in www.cebupacificair.com Guests without credit cards may also book online and pay through CEB partner banks and payment centers.
For bookings and inquiries, guests can go to www.cebupacificair.com, or call the reservation hotlines (02) 7020-888 or (032) 230-8888. The latest seat sales and promos can also be found on CEB's official Twitter and Facebook pages.
CEB currently operates 10 Airbus A319, 21 Airbus A320 and 8 ATR-72 500 aircraft. Its fleet of 39 aircraft – with an average age of 3.6 years – is one of the most modern aircraft fleets in the world. Between 2012 and 2021, Cebu Pacific will take delivery of 22 more Airbus A320 and 30 Airbus A321neo aircraft orders, and 2 Airbus A320 aircraft on operating lease agreements.
Search Hotels & Prices
Be the first to know. Sign-up for FREE!
Share